Efficiency of logistics trains.
How to achieve better performance at lower costs?
The intralogistics systems that we design using our trains are based on the so-called milk-run principle. What does it consist of? A fixed route is developed for the delivery and collection of goods, with the end and beginning at the same place. Moving around a closed loop, one vehicle completes several steps in the process in a single run.
By transferring this concept to intralogistics, we facilitate the work of production plants and warehouses.
A material flow process is smoother;
Deliveries are more frequent, but in smaller batches;
Components are delivered to the stations exactly when they are needed;
Elimination of empty runs – materials can be delivered to various stations in a single run;
Time and cost savings – what is transported three times with a forklift can be transported in a single run on a train.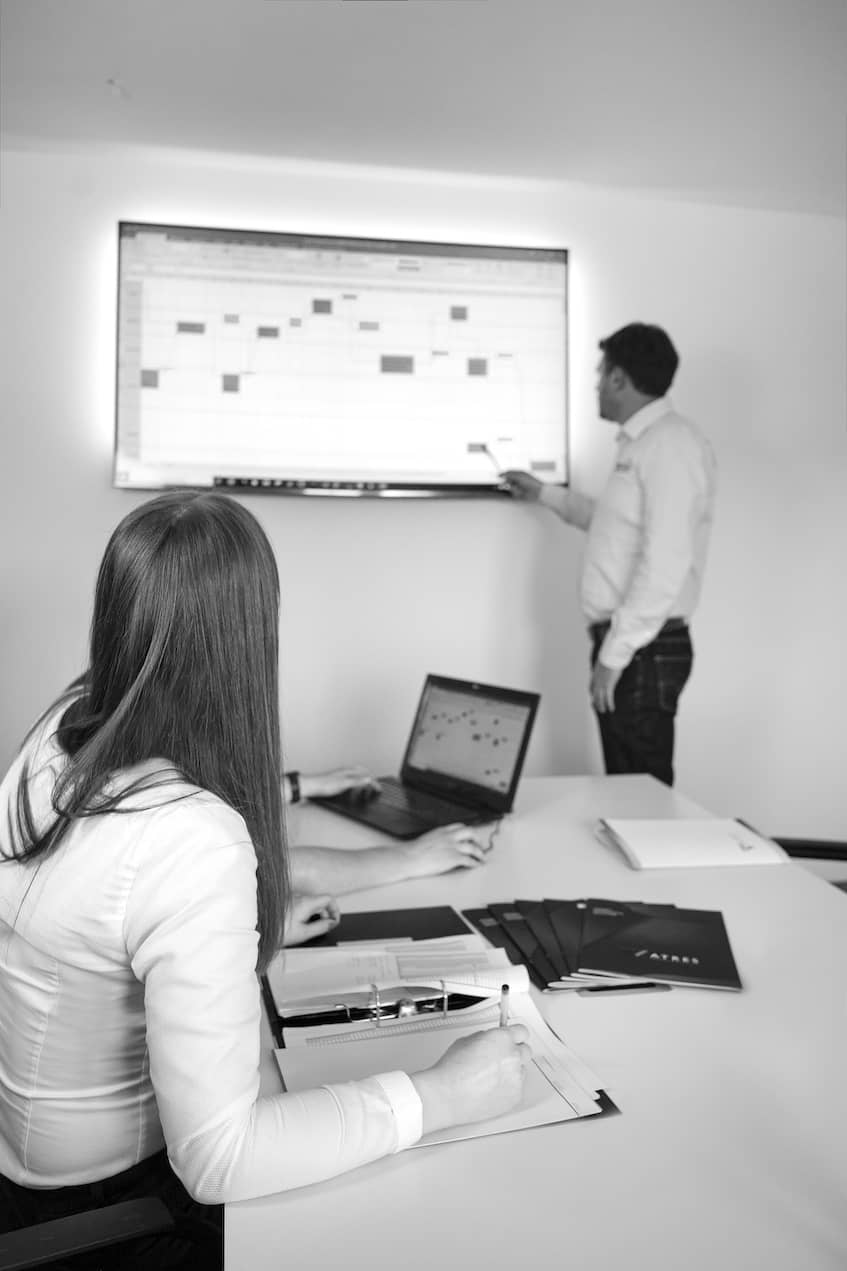 Comparison of running systems
Flextrack®
Flextrack® is Atres' proprietary driving system, thanks to which our customers use logistic trains even in narrow corridors.
Advantages:
Perfect tracking when attached to a train – as in the 4-wheel steering system
Suitable for narrow transport routes
Easy to maneuver when unhooked – as in the inverted drawbar system
& nbsp;
Classic system - front drawbar
Advantages:
Easy to maneuver when unplugged
Cons:
Non-perfect tracing – each wagon traces on its own
Needs wide corridors
Inverted drawbar
Advantages:
More accurate tracking than with a straight drawbar
Swivel front wheels, fixed rear wheels – easy to maneuver when unfastened
Cons:
Non-perfect tracing – each wagon traces on its own
4-wheel steering system
Advantages:
Perfect tracing
Suitable for narrow transport routes
Cons:
Difficult to manoeuvre when unplugged
A logistic train has significant advantages over a forklift truck.
LOGISTIC TRAIN
many times greater transport efficiency – one train will do the job
several carts at the same time
elimination of empty runs
possibility of combining various trolleys into sets, minimizing the necessary vehicles
flexibility and easy adjustment to production needs
safety and less traffic
simple operation, no additional qualifications and permissions required
FORKLIFT
low transport efficiency
high wastage in transport
no possibility of combining vehicles and low level of adaptation to the specificity of the loading
increased traffic on transport routes and loading areas
high risk of accidents and collisions
only authorized drivers can be forklift operators
How much do you gain? A calculation is simple.
Buying forklift trucks that will work 24/7 is a huge investment. Their maintenance is also very expensive. To achieve the same capacity as with a milk-run system, you need more vehicles and more staff.
The cost of buying the trains necessary to achieve the same capacity is a fraction of the cost of buying and maintaining an entire fleet of forklift trucks. One train can consist of several wagons, so more goods than a forklift truck. At the same time, it reduces the number of staff needed.
When comparing the 5-year service life of both solutions, the milk-run is 5 times cheaper. Even with a small intralogistics system, you can save up to several hundred euros in the first year after the change!
Do you want to save on your intralogistics fleet?
Fill in the form. We will show you how to do it.